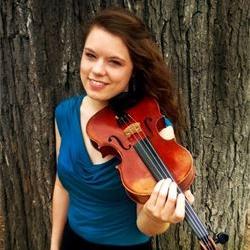 Mallory Tabb is an enthusiastic violinist and dedicated teacher. She has performed and taught in Oregon, Florida, and throughout the Midwest. She performs regularly with the Jackson Symphony Orchestra (Assistant Concertmaster), the Lansing Symphony Orchestra (Assistant Principal Second Violin), and the Ann Arbor Symphony Orchestra (Tenured Section Member).
An avid chamber musician, in recent years Mallory has performed with members of the Toledo Symphony Orchestra in the marathon performance events "Bach Around the Clock" (2016) and "The Complete String Quartets of Dimitri Shostakovich" (2015). She is currently a member of the string ensemble Quartet Felice, the first classical ensemble to appear in the Affinity Series at the Franke Center for the Arts in Marshall, Michigan.
Mallory is a trained Suzuki teacher and has begun studying for certification in Dalcroze Eurhythmics. A private teacher for 16 years, in 2013 she helped launch the University of Michigan String Preparatory Program, a specialized training program for pre-college musicians. She continues to work with dedicated SPA musicians as both a violin instructor and SPA Junior Division Coordinator. She enjoys working with students of all ages through her private Ann Arbor studio.
Mallory holds a Master of Music Degree from the University of Michigan where she studied with Stephen Shipps and a Bachelor of Music Degree from the University of Wisconsin-Whitewater where she studied with Leanne League. Former teachers also include Marguerite Richardson (Jacksonville University), Lee Joiner (Wheaton College), and Stephanie Preucil (Schaumburg, Illinois).