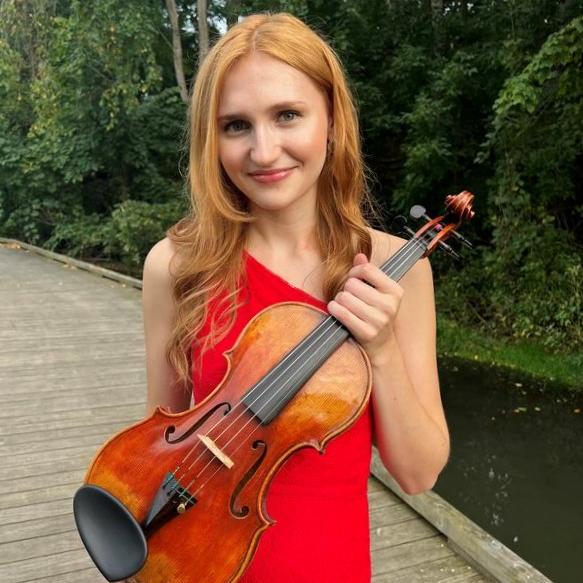 Allyson Cohen is a violinist currently studying with Professor Danielle Belen of the University of Michigan. Allyson holds a bachelor's degree from the Robert McDuffie Center for Strings of Mercer University. She studied with distinguished artists Amy Moretti, David Kim, and Robert McDuffie. 
Allyson has given solo performances at Carnegie Hall as well as the Kimmel Center. She has performed as a substitute for the Philadelphia Orchestra and has played under the baton of renowned conductors Marin Alsop, Simon Rattle, Yannick Nezet Seguin, and Stèphane Denéve. 
Allyson has a position in Lansing Symphony Orchestra and has acted as one of the concertmasters for the Macon-Mercer Symphony. She has attended Summer festivals such as The National Repertory Orchestra, NYO-USA, Bowdoin International Music Festival, The Manchester Music Festival, The Chautauqua Institute. In 2021 Allyson was named a young artist at Rome Chamber Music Festival. Allyson has taken lessons and masterclasses with James Ehnes, Miriam Fried, Catherine Cho, Donald Weilerstein, Cho Liang Lin, and Kathleen Winkler, among others. Allyson has collaborated with renowned musicians such as Lisa Batiashvili, Clive Greensmith, David Kim, and Robert McDuffie, Victoria Chiang, as well as with the Borromeo, Emerson, Ehnes, and Tokyo string quartets. She has also appeared in concerts alongside members of R.E.M, The Rolling Stones, and the Allman Brothers. Allyson has appeared on NPR's From the Top and has recorded for SiruisXm and PBS. Allyson is also the founder of Concert Music Outreach Collective, a nonprofit dedicated to bringing high-level chamber music performances to hospitals and homeless shelters in the Southeastern Michigan area.