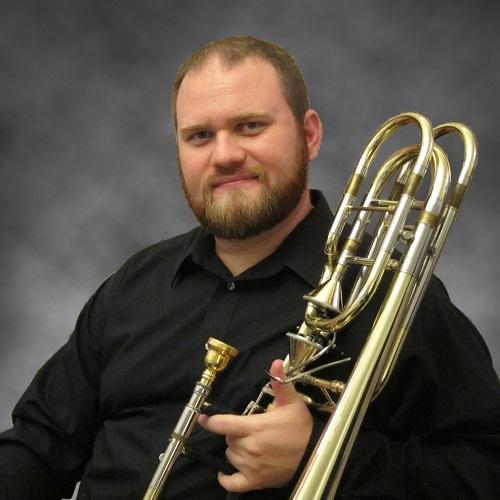 Dr. Bryan Pokorney began playing trombone at age 10, in his hometown of Evansville, IN. After graduating from the University of Evansville in 1998, he moved to East Lansing to begin studies at Michigan State University. Since then, he has been working as a freelance bass trombonist and educator in Michigan, and currently lives in Roseville, MI. Bryan serves as bass trombonist with the Lansing Symphony Orchestra and the Midland Symphony Orchestra, and is a frequent performer with the Michigan Opera Theatre Orchestra. In addition to these ensembles, Bryan has performed with the Detroit Symphony Orchestra, the Detroit Chamber Winds and Strings, the Grand Rapids Symphony Orchestra, the Kalamazoo Symphony Orchestra, and the West Michigan Symphony to name a few.
Dr. Pokorney holds degrees from Michigan State University and the University of Evansville (IN). He served as Interim Assistant Professor of Trombone at Central Michigan University during the fall semester of 2007. He has also been on the faculties of Alma College and the University of Michigan-Flint. Bryan has given master classes and clinics all over Michigan, and has been a private low brass teacher since 1998.
In addition to his musical endeavors, Bryan is co-founder of Pug & Dragon – a two-man indie video game design company. Pug & Dragon's first game, a 2D adventure called The Garden, was released on Steam in September, 2016. The team is currently working on a second 3D project.