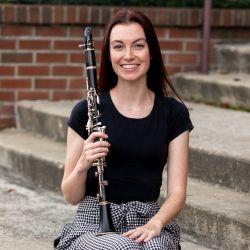 Erin Dowler is a clarinetist, educator, and arts administrator based in Michigan.  She currently serves as Second Clarinet in the Lansing Symphony Orchestra, clarinetist with Pure Winds woodwind quintet, and a member of the Bella Clarinet Quartet.  She also frequently subs as Principal Clarinet with the Marquette Symphony Orchestra, and performs regularly with the MSU Wind Symphony.  Erin has performed as a soloist with The Ohio State Symphony Orchestra, and has performed as a soloist, orchestra member, and chamber musician at the FOOSA Festival in Fresno, CA and the International Music Mastercourses festival in Cividale del Friuli, Italy.

As an educator, Erin has been successfully teaching private lesson students throughout New York and Michigan since 2017.  She is an instructor at MSU Community Music School – Detroit, and has given clarinet workshops and technique classes to high school students throughout southeast Michigan.  Erin served as a graduate assistant at The Ohio State University from 2019-2021, teaching undergraduate clarinet lessons and coaching chamber ensembles.

Erin received a BM in Music Education and Clarinet Performance from Ithaca College and an MM in Clarinet Performance from The Ohio State University.  She is expected to complete her DMA in Clarinet Performance from Michigan State University in Spring 2024.  Primary teachers include Guy Yehuda, Caroline Hartig, Richard Faria, and Gerry Zampino.