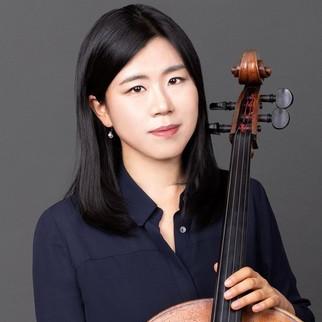 Cellist Jinhyun Kim from South Korea is currently assistant principal cello with Lansing Symphony Orchestra, a cellist with ConTempus Initiative Ensemble, Midland Symphony, Jackson Symphony and Flint symphony, a cello instructor at Marshall Music in Lansing and Adjunct Professor of Cello at Spring Arbor University.
She had a debut concert in Kumho Art Hall in Seoul, Korea 2011. On November 2013, Kim played in a master class with cellist Yo-Yo Ma at the Fairchild Theater at MSU. In 2013, she was the winner of the Michigan State University honors competition and performed as a concerto soloist with MSU Symphony Orchestra on March 2014 at the Wharton Center. This performance was radio broadcasted with 90.5 WKAR (Public Media from Michigan State University) several times. On May 2016, she performed for American Protégé International Piano and Strings Competition 2016 Winners Recital at Carnegie Hall, New York.  She came back to Carnegie Hall again on March 2020 to perform as a first winner prize of 2019 Golden Classical Music Awards.
She was one of the participants of the National Orchestral Institute Festival 2016 at the University of Maryland. Recently, Naxos records released the National Orchestral Institute Philharmonic recordings in which Kim participated.  Some of her significant collaborations were serving as a cello principal with Detroit Chamber Winds and Strings in a performance of Richard Einhorn's "Voices of light" at the Detroit Institute of Arts on March 2018. Also, she played as a cello solo for Michigan Opera Theatre's fall 2020 production Twilight: Gods which got great reviews on New York Times, Wall Street Journal, Opera News and The New Yorker.
She began her studies on the cello at the age of eight. She received a Bachelor of Music from Ewha Womans University, South Korea, where she studied under Sun Yee Chung and Il-Hwan Bae.  She completed Masters and Doctor of Musical Arts degrees under Suren Bagratuni at Michigan State University where she received awards and grants including the Welton Family Endowed Fund, Dr. Stanley and Selma Hollander Endowed Scholarship in Cello and Music GOP Fellowship. Also, She was a graduate teaching assistant at MSU from 2013 to 2016.