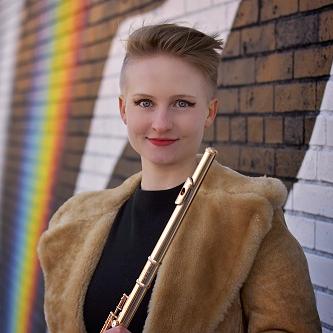 Kathryne Salo, a Miyazawa Emerging Artist, was appointed Third Flute/Piccolo of Lansing Symphony Orchestra in 2017. In the same year, she was appointed Principal Flute of Southwest Michigan Symphony Orchestra and completed her DMA at Michigan State University, where she served as Instructor of Flute that summer. A Louisiana native, Kathryne has performed in venues from New Orleans Arena to Royal Festival Hall to St. John's, Smith Square, with musicians including Pablo Heras-Casado, Ellis Marsalis, Frederick Fennell, and Sir Colin Davis.
As a soloist, Kathryne has performed with the MSU Symphony, the University of Tennessee Symphony, and Monroe (LA) Symphony. She has freelanced with Knoxville Symphony, Oak Ridge (TN) Symphony, Jackson Symphony, Holland Symphony, and London Arts Orchestra. Orchestral festival experience includes the Texas Music Festival, Hot Springs Music Festival, Pierre Monteux Music Festival, and Aurora Chamber Music Festival (Trollhättan, Sweden). Kathryne has also won awards in the Ervin Monroe Young Artist Competition (Detroit, MI, 2016, 2014), Cynthia Woods Mitchell Young Artist Competition (Houston, TX, 2016), and MTNA Young Artist Woodwind Competition (New York City, 2012).

With an LRAM teaching diploma and four years spent as a graduate teaching assistant, Kathryne loves flute pedagogy. In 2017, she presented several lectures: The Art of the Vocalise: Flutist as Singer and Edgar Varèse's Density 21.5 and Chou-Wen-Chung's Cursive: The Dynamism of Culture. Kathryne also earned degrees from the University of Tennessee, the Royal Academy of Music, and Louisiana State University. Major teachers include Richard Sherman, Shelley Binder, Clare Southworth, Michael Cox, Patricia Morris, Katherine Kemler, and Patti Adams. She is a Theodore Presser Scholar, National Merit Scholar, and Sousa Band Award winner.