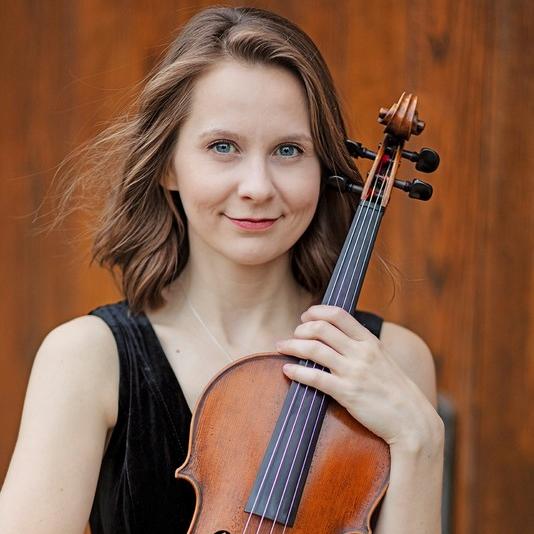 A native of West Michigan, violist and educator Kristina Zeinstra received her Bachelors in Viola Performance with a minor in Eurhythmics Pedagogy from the Cleveland Institute of Music, and an Artist Certificate in Viola Performance from the University of Tennessee, where she was a teaching assistant and inaugural Tennessee Fellow.
Prior to joining LSO, she held positions with the Holland Symphony Orchestra and Knoxville Symphony Orchestra. Ms. Zeinstra has also performed with the Oak Ridge Symphony and as principal violin and viola for several theater companies in Michigan, including Muskegon Civic Theater, West Michigan Savoyards, 63rd St. Productions, Mona Shores Allegros, and Hope Summer Repertory Theatre. As a chamber musician, she has been mentored by members of the Cavani, Enso, and Cleveland Quartets, and has participated in concerts and outreach performances in Michigan, Ohio, Pennsylvania, New York, Maine, and Tennessee. She has attended several summer festivals, including Bowdoin International Music Festival, the summer training program at the Institute for Jacques-Dalcroze Education, Calvin College String Summit, and was an orchestral intern for the Endless Mountain Music Festival. She has also participated in viola workshops at the University of Tennessee and West Virginia University.  Her principal teachers include Hillary Herndon, Kirsten Docter, Mark Jackobs, Caroline Coade, and Barbara Corbato. She has performed in master classes with Kenji Bunch, Andrea Priester-Houde, Robert Swan, Melissa Reardon, and Mauricio Cespedes.
Ms. Zeinstra's teaching credits include four years as an assistant for the CIM Preparatory Orchestra Program. She has also served as rhythm and viola instructor for the Michigan chapter of the American String Teachers Association String Camp and has presented lectures in Eurhythmics. She holds certification in Dalcroze Eurhythmics and the Suzuki Method and maintains a private studio of viola and violin students.