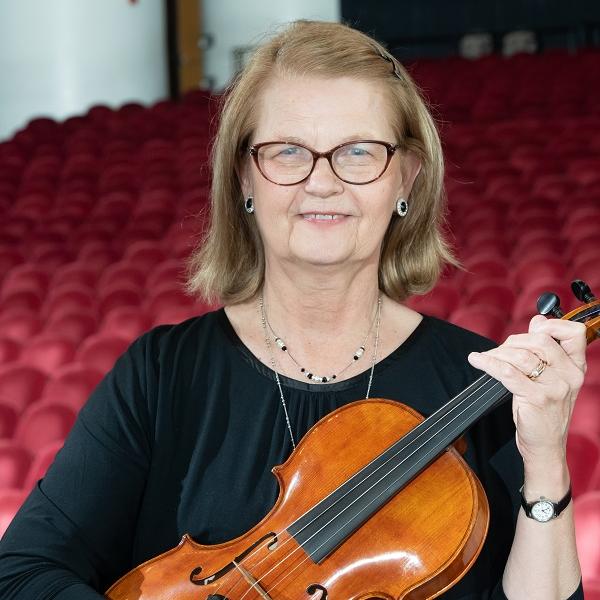 Linda Gregorian graduated with Honors from Michigan State University in 1971 with a Bachelors degree in Violin Performance. She earned a Master of Music in Violin Performance degree from the University of Evansville in Evansville, Indiana in 1982. Her principal teachers included Lyman Bodman, Walter Verdehr, and Delmar Pettys. As a high school and college student, she attended the Interlochen National Music Camp two summers and the Meadowmount School for Strings one summer where she studied with Dorothy Delay. She successfully completed Suzuki Violin Teacher Training Units 1A-6 after graduating from college.
Ms. Gregorian's teaching experience includes 13 years as a private teacher in Owensboro, Kentucky, seven years for the Michigan State University Suzuki Program,32 years for the Okemos, Michigan Suzuki Program, and 17 years as 5th grade Strings Instructor and 6th grade Orchestra teacher for the Okemos Public Schools, retiring from that position in 2011. She held the position of Conductor of the Owensboro Cadet Orchestra for seven years, and taught at the Owensboro Area Music Camp for seven summers. She served as a Clinician at the Blue Lake Fine Suzuki Family Camp for ten summers, and was a guest clinician at a number of Suzuki Workshops in the state of Michigan, Indiana, and Ohio. She is about to begin her 32nd summer of teaching Violin, Viola, and Chamber Music at the New England Music Camp in Maine.
Ms. Gregorian has played viola in the Lansing Symphony Orchestra since 1985 and performs on both violin and viola at faculty recitals each summer at the New England Music Camp. She received a variety of awards and honors throughout High School and College years including a merit scholarship to attend the Interlochen Music Camp in 1966, member of the Honors Quartet for the state of Michigan in 1966, member of the Blue Lake Fine Arts Camp Resident String Quartet in 1969, Phi Kappa Phi Scholastic Honorary in 1971, Alpha Lambda Delta Scholastic Honorary in 1971, Concerto Competition Winner at the University of Evansville in 1981. More currently she was awarded the Commitment to Excellence teaching award by the Okemos Education Foundation in 2002. In 2014 she was nominated and on the MASTA ballot for Studio Teacher of the Year Award. She currently enjoys teaching her studio of 22 violin and viola students through the Okemos Suzuki Program as well as two violin Group classes.
Linda is married to Leon Gregorian, Music Professor Emeritus and former Conductor of Orchestras at the Michigan State University College of Music in East Lansing, MI. He is currently the Conductor of the Symphony Orchestra and teaches at New England Music Camp in Sydney, ME. Linda & Leon have three grown children, Ara, Ani, and Alicia, all accomplished musicians, and seven grandchildren!