Musicians
Myeonggyun Charles Noh
Sponsor: Sam & Mary Austin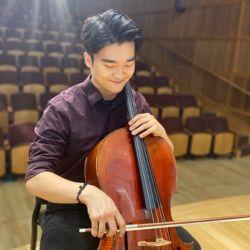 Myeonggyun Charles Noh, born in South Korea, began his journey with the cello at the age of 11. He received mentorship from esteemed professors, including Huisong Song, Mark Kosower, Stephen Geber, and Sharon Robinson, leading to the acquisition of two bachelor's degrees from Daegu Catholic University and Cleveland Institute of Music. Additionally, he holds a master's degree in Cello Performance from Cleveland Institute of Music.
Throughout his career, Myeonggyun Charles Noh has garnered recognition for his exceptional talent, winning awards at competitions such as the Daegu Symphony Orchestra Concerto Competition, Seoul Solist Cello Ensemble Competition, Cleveland Cello Society Competition, and Dichler Competition in Vienna. As a dedicated chamber musician, he is a proud member of the ILO Quartet, which clinched the top honors at the 2021 Coltman Chamber Music Competition and the 8th Stockholm International Music Competition.
Currently, Myeonggyun Charles Noh is pursuing his doctorate in cello performance at Michigan State University, under the guidance of Professor Suren Bagratuni. He diligently improves his own musical idea and his various repertoire in his recital as a solo cellist and chamber musician.