Musicians
Sandro Sidamonidze
Sponsor: Sam & Mary Austin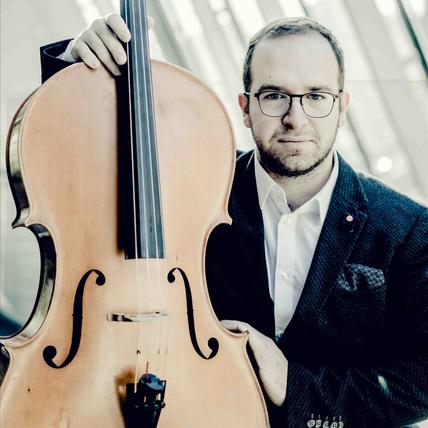 Cellist Sandro Sidamonidze has been described as a "cello virtuoso," known for his energetic, passionate playing and fierce commitment to interpretive integrity. Born to a family of musicians, he has spent a lifetime immersed in music. His most recent engagement was a performance at Wiener Musikverein with his newly formed ensemble, Trio Revolution. After their successful debut performance, the group was invited to return in June of 2021.
Mr. Sidamonidze is an acclaimed advocate for classical music in his home country of the Republic of Georgia, Germany, the United States, and beyond, having received national coverage through appearances in newspaper headlines and live radio and television broadcasts. In celebration of Georgia's 100th independence anniversary, Sandro was invited to participate in the "Georgian Overtones" project at the United Nations. Another of his notable performances took place at the headquarters of the Government of the UK. At the invitation of the founder of the Leeds International Pianoforte Competition, Dame Fanny Waterman, Mr. Sidamonidze performed a concert for the Prime Minister of the United Kingdom, Gordon Brown. As part of the 2014 "Cello Season" Festival held in Georgia, Sandro was invited to perform with the Georgian Philharmonic Orchestra. He was featured alongside legendary cellists such as Natalia Gutman, David Geringas, Istvan Vardai, and Nicholas Altstadt.
To make exceptional music accessible to all, Sandro regularly performs in libraries, nursing homes, sensory-friendly programs, and benefit concerts. These charity events have included appearances at Mary's Meals and concerts in support of children impacted by tuberculosis organized by the first ladies of Georgia and Lithuania. Sandro serves as Vice President of the board of directors for Grandstand Music Festival. This nonprofit organization uses music to raise awareness for human trafficking and its many root causes, such as systemic racism and food insecurity.
After taking first prize in the Vladimir Spivakov competition in 2007 at the age of 9, he has performed in numerous national and international solo and chamber music competitions worldwide. He made his debut at the Weill Recital Hall of Carnegie Hall in the American Protégé Competition. Sandro has received first prize at the "Sixth Georgian Competition of Musician-Performers," where he was also awarded an additional prize from the SOLO foundation, first prize in the "Chamber Music Competition" in Tbilisi, Georgia, and the Grand Prix and three special prizes of the "Second Amirejibi competition." He also received second prize at the Michigan ASTA competition, first place in the 2017 Michigan State University String Division Honors Competition, and third at Dombrovski International Competition. He most recently competed in The Naftzger Young Artists Auditions and Music Awards, for which he was awarded the second-place prize. Sandro is also a recipient of a very prestigious Louis Sudler Prize in the Arts.
An established and sought-after international performer, he has toured as a guest artist with the chamber orchestra Georgian Sinfonietta at the "Easter to Ascension" Festival. Additionally, he has performed extensively as a guest artist in many festivals, including Newport Music Festival; Telavi International Music Festival, International Music Festival in Batumi, Georgia, "Mecklenburg Vorpommern Festspiele," and "Mozartaugsburg," where he was awarded a new cello. He has performed in the Lansing Symphony Orchestra Chamber, MSU West Circle, and Absolute Music series'. He has also participated in festivals around the globe, including in Italy, Russia, Armenia, and Germany.
A seasoned solo and chamber performer, Sandro has collaborated with a multitude of
well-known artists including Stephanie Chase, Giya Kancheli, Francisco Fullana, Ian Watson, Misha Keylin, Jacqueline Choi, Sergey Antonov, Gianluca Marcianò, Dmitri Berlinsky, Walter Verdehr, Yuri Gandelsman, and many others.
He is also the Principal Cello of the Battle Creek Symphony Orchestra and the Assistant Principal Cello of the Lansing Symphony Orchestra.
Sandro has participated in masterclasses and long-term studies with such world-renowned cellists as Natalia Gutman, Suren Bagratuni, Wen-Sinn Yang, Peter Bruns, Wolfgang Emanuel Schmidt, Jacqueline Choi, and Wolfgang Boettcher. He graduated from Z.Paliashvili Central Music School in Tbilisi, Georgia, where he studied with Peter Bagration-Davitashvili and Otar Chubinishvili. Currently, Sandro is pursuing a master's degree at Michigan State University under Professor Suren Bagratuni.