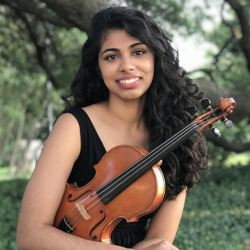 A native of Plano, Texas, Shruthi Kattumenu holds degrees in violin performance from
the University of Texas at Austin. An avid orchestral musician, Shruthi has performed
with the Austin Symphony Orchestra, Waco Symphony Orchestra, and Canton
Symphony Orchestra, among others. Shruthi is also a passionate educator who has
been teaching for almost ten years. She served as a teaching artist with Austin
Soundwaves, an El Sistema organization, and currently serves as violin faculty for the
St. Francis String Program in Ann Arbor, Michigan. Shruthi has participated in festivals
such as Music Academy of the West, Meadowmount School of Music, and Montecito
International Music Festival where she studied closely with Glen Dicterow, Kathleen
Winkler, Jorja Fleezanis, Martin Beaver, Almita and Roland Vamos, and members of the
Takacs Quartet. In recent years, she has also appeared in masterclasses with Frank
Almond, Nathan Cole, Robert Chen, and the Miro Quartet. Shruthi's primary teachers
include Nicolette Solomon, Jan Mark Sloman, Brian Lewis, and William Fedkenheuer.
Shruthi currently enjoys playing chamber music with friends in her new home of Ann
Arbor and works in the marketing department of Shar Music.