Musicians
Will Thain
Sponsor: Tom & Wendy Hofman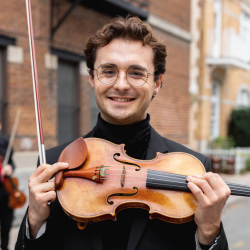 Canadian violinist William Thain will be joining the Lansing Symphony Orchestra as concertmaster for their 2023-2024 season. He also holds section violin positions with the Jackson and Adrian Symphonies and was co-concertmaster of the National Repertory Orchestra in Breckenridge, CO for their Summer 2023 Season. 
William received his master's degree in violin performance studying with Danielle Belen at the University of Michigan and completed a Graduate Certificate in Arts Entrepreneurship and Leadership. He was the recipient of the 2022 Performing Arts EXCELerator Fellowship through U-M as a co-founder of the Montréal-based Ensemble Urbain, a conductorless ensemble specializing in performing works by underrepresented composers. An aspiring and passionate teacher, William joined the faculty of the University of Michigan pre-college program as a violin instructor in 2022. Prior to his time in Ann Arbor, he completed a bachelor's in violin from McGill University in Montréal and an ARCT Diploma from the Royal Conservatory of Music in his hometown of Toronto.  
William has previously sat concertmaster and principal second at McGill, University of Michigan, and the Credo Festival Orchestra, where he collaborated with Rachel Barton Pine and Matthew Lipman.  He has attended festivals including National Repertory Orchestra, Sounding Point Academy at the Colburn School, Center Stage Strings, Apple Hill, Credo, Colorado College, Orford, Cavani Quartet International Quartet Seminar. He has recently collaborated with artists including Michael Stern, JoAnn Falletta, Tania Miller Midori, Danielle Belen, Annie Fullard, Fabiola Kim, Simon James, Leo Singer, Horacio Contreras, and Mi-Eun Kim. William's previous teachers include Axel Strauss, Alexander Read, Richard Roberts, Arkady Yanivker, and Janet Wilchfort.